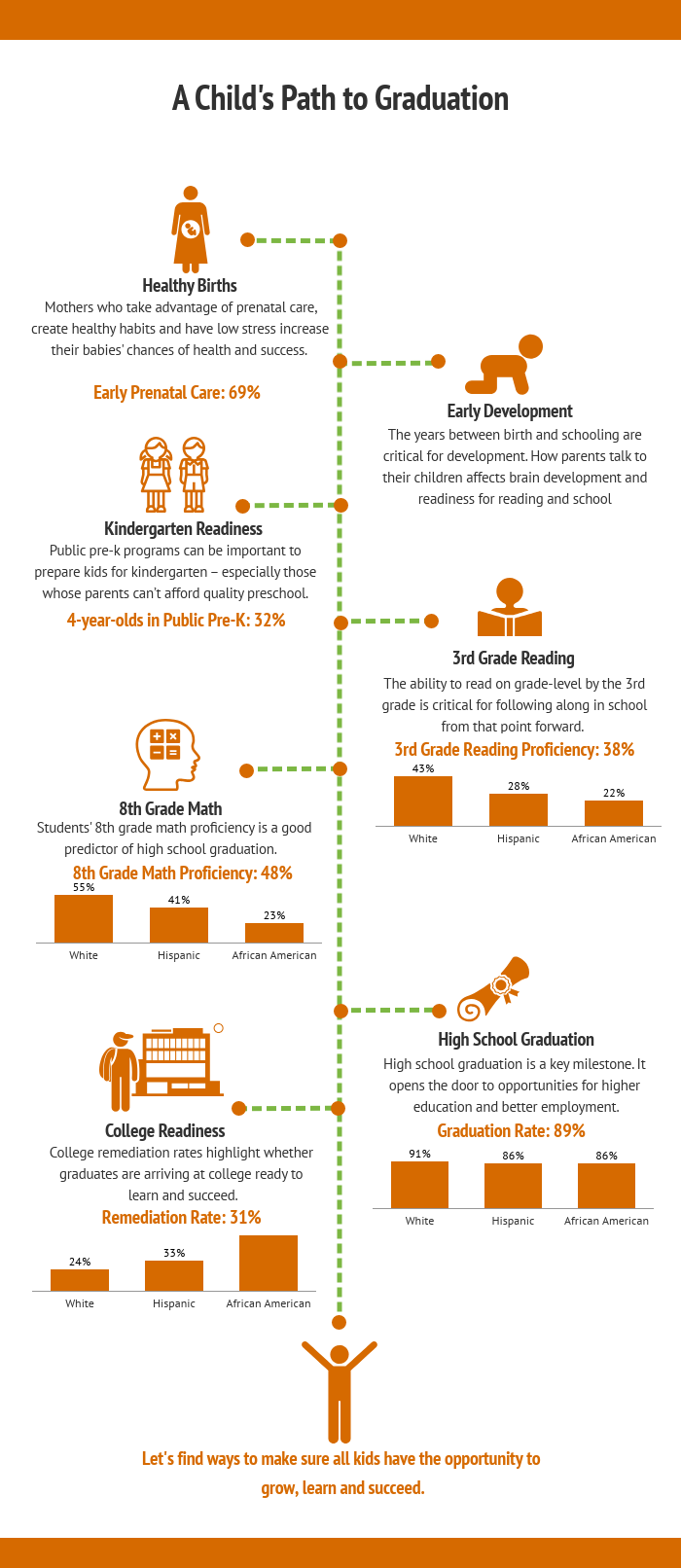 The path to a successful future begins long before young people enter high school. Along their educational path, children hit several key milestones that provide a glimpse into their likely future. In this data story, we connect the dots between some key indicators that show how children progress within Arkansas's educational system.
Our story begins in the womb, as mothers who take advantage of prenatal care, create healthy habits and have low stress increase their chances of putting their babies on a track toward health and success. In 2018, only 69% of Arkansas mothers reported that their first prenatal doctor's visit was in the first trimester of pregnancy. That's far below the 76% rate for the nation.
As a child grows, their years between birth and schooling are critical for development. Brain research now shows us that how parents talk to their children as early as infanthood affects brain development and therefore their readiness for reading and school. There's little data available to tell us how children at these ages are faring. We do know, however, that in 2019 there were enough high-quality, publicly funded seats to serve 61% of Arkansas preschoolers.
In addition, we know that in 2019, 32% of 4-year-olds and 19% of 3-year-olds were in public pre-k programs.[1] Public pre-k can be particularly important in preparing kids whose parents cannot afford private preschool for kindergarten. The data show that Arkansas ranks 17th in the nation for 4-year-olds, and 5th in the nation for 3-year-olds (many states do not have a program for 3-year-olds).
Following children as they enter kindergarten, we know they hit a major milestone. The state of Arkansas has identified a list of indicators showing what skills, knowledge and behaviors children need for a successful start to school. From these indicators, they've created a checklist parents can use to make sure they're doing everything possible to support their educational development. Some states have a standardized assessment to show how many children are meeting a kindergarten readiness benchmark, but Arkansas does not track this with the same assessment across all districts.
The next critical point we find in a child's educational journey is upon entering 3rd grade. While reading is a developmental skill that differs among children, the ability to read on grade-level by the 3rd grade is critical for following along in school from that point forward. In Arkansas, 38% of 3rd graders tested in 2019 were considered proficient or advanced in reading. That's not all - there are troubling disparities, too. For example, 43% of white students and just 22% of African American students are meeting reading proficiency. Disparities in educational outcomes have many contributing factors with historical roots, including lower incomes among families and unequal access to wide variety of educational and social resources connected to student achievement in school.
As a student enters 8th grade, they need to show a solid understanding of arithmetic concepts as they begin studying algebra because math proficiency at this level is a good predictor of high school graduation. In 2019, 48% of 8th graders were proficient or advanced on the state math exam, with similar racial disparities we saw in 3rd grade reading – 55% among white students and 23% for African American students.
Moving to our next milestone, high-school graduation, the racial disparities mostly disappear. For the class of 2018, the cohort (students of the same class) graduation rate was 89%, meaning all but 11% of 9th graders who began high school in 2014 graduated four years later. This includes 91% of white students, and 86% of both Hispanic and African American students.
As we look beyond high school, however, to how graduates are faring in college, we see some hurdles. In 2017, 31% of entering college students needed a remedial course in math, reading or English, down 4 percentage points from 2016, but still a sign of concern. In addition, unfortunately, our racial disparities are back, with 61% of African American students, 33% of Hispanic students and 24% of white students requiring remediation.
Our journey down the path of child development in education raises several questions for considering Arkansas's hurdles and bright spots:
How could communities better support all students leading up to each milestone?
What data could be developed to improve our measurement of how children are doing?
Arkansas has a leg up on some states in publicizing indicators of school readiness – would a standardized assessment and public reporting of readiness rates push that forward even further?
Why do racial disparities persist in test results, mostly go away in graduation rates, and re-emerge in remediation rates? Are the tests showing us something important, or are they culturally biased? How can the education system be remade to better serve students of color?
The state's tracking of college remediation is helpful in giving the public a picture of how well graduates are prepared, and it's something not all states do. It shows Arkansas has a commitment to using data to measure the performance of the educational system.
Let's find ways to take that commitment even further in making sure all kids have the opportunity to grow, learn and succeed.
---
[1] Data from the National Institute for Early Education Research. Since we only have data for the entire state, and not Arkansas counties, we could not make an indicator out of it.