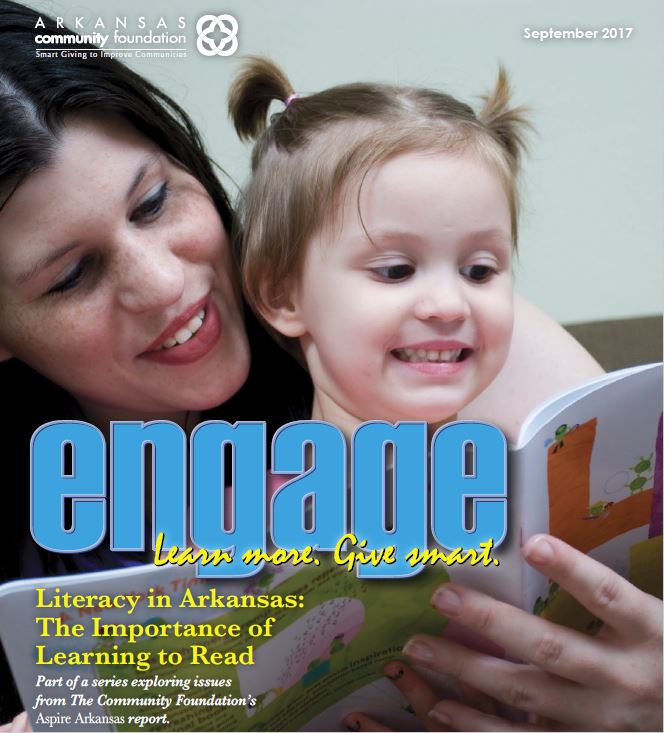 When asked what she likes to do during the summer months, Zicariah, a four-year old student at Park Avenue Elementary School's summer reading camp in Stuttgart, responded "I like coming here because I get to read about hot air balloons and do science experiments with my teacher."
A Summer Learning Initiative grant from Arkansas Community Foundation recently funded a summer camp at Park Avenue Elementary to help students age six through nine with reading confidence, comprehension and self-exploration in learning.
By reading Dr. Seuss favorites, students like Zicariah not only learned literacy skills, but also participated in hands-on enrichment activities including music, science, art and math. At the end of the camp, students presented their projects and had the opportunity to explain what they learned.
"While there are challenges with attendance and recruiting staff for summer learning camps like ours, we know that our curriculum provides students with what they need to come back to school in the fall ready to succeed," said Pam Dean, Principal of Park Avenue Elementary. "Our staff works to ensure students leave here reading at grade-level and that they feel confident in their reading ability."
Summer Learning grants like these aim to support school and community programs that combat the "summer slide," the loss of skills when kids are out of school and left without learning accountability. The program was born from a combined effort between the Arkansas Campaign for Grade-level Reading, the Community Foundation and Winthrop Rockefeller Foundation
The Summer Learning Initiative is one of five strategies that the Arkansas Campaign for Grade-Level Reading (AR-GLR) aims to implement. As a collaborative effort between nonprofits, families, government agencies, foundations, educators and other key community leaders, AR-GLR is committed to the goal that all Arkansas children will read at grade-level by the end of third grade.
Third grade is a crucial year because studies show that if a student can read proficiently by the end of third grade, they're more able to shift from learning to read to reading to learn as they rise to fourth grade.
Others have also recognized the importance of taking advantage of the summer months for learning purposes. BearsRead Summer Camp at the University of Central Arkansas is another local effort in Conway that has seen improvement in students' literacy skills.
The program is implemented by faculty of the College of Education and uses small and large group activities to cover skills in phonics, spelling and vocabulary development. Students participate free of charge and are screened at the beginning to identify skill deficits. The camp even offers special dyslexia interventions.
Dr. Tammy Benson, Professor of Teaching and Learning at UCA, says this is their second year of the program and the waiting list is lengthy. "We've seen an increased interest after the first year which has been really encouraging to staff who are pouring their time and resources into the program" said Benson. "We have a method that works and we know that the time students spend with us will equip them for success as they jump back into their regular school routines."
With summer and fall options available, BearsRead kills two birds with one stone. While the primary goal of the program is to help struggling students read at grade-level by the end of their time attending camp, it also provides UCA graduate students with real hands-on experience conducting tutoring sessions and reading assessments.
By working together, Jeff Whittingham, the graduate program's coordinator, and Benson believe the two programs have perfect synergy.
"No longer are my students just learning about comprehension strategies, but they are now implementing those strategies and seeing the usefulness of them. Having a positive impact on struggling readers has energized the entire course," said Whittingham.
Benson reported that 35 percent of students who participated in the 2016 summer camp grew at least one grade-level on the QRI, an instrument the staff uses to test reading ability.
The future of literacy in Arkansas clearly depends on the availability of programs, like summer learning camps, to children as they are developing critical literacy skills. Currently, 13.7 percent of Arkansans age 16 and older lack basic literacy skills and nearly 19 percent of Arkansans 25 and over do not have a high school diploma or GED, ranking Arkansas at 44 among other states (According to the 2015 Health Rankings report and U.S. Census Bureau, 2007-2009).
Focusing on the development of childhood literacy and joining efforts with organizations like AR-GLR can help. This strategy can improve our future citizens' ability to navigate our complex healthcare system, complete simple job applications, encourage the development of their own children and manage personal finances.